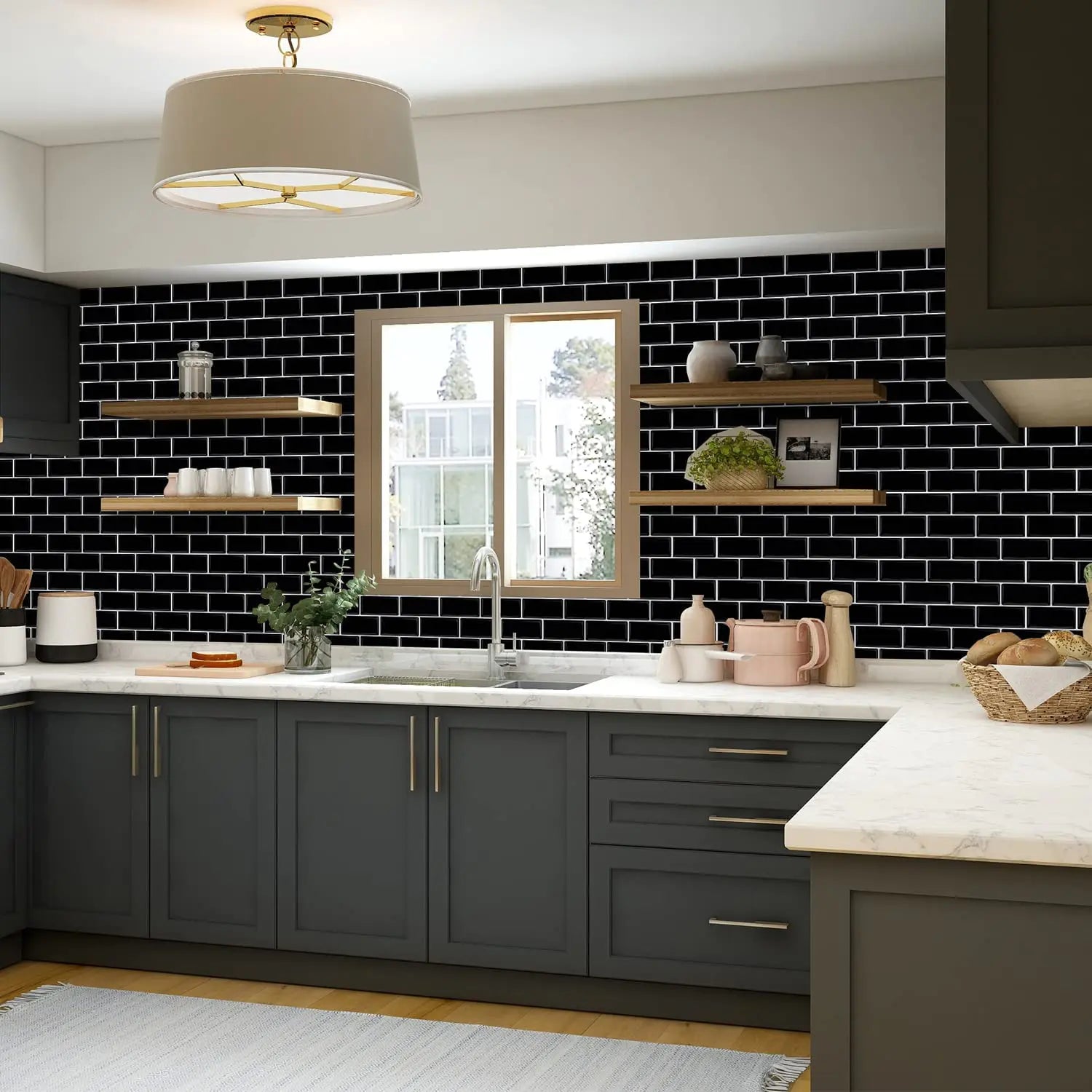 Renter-Friendly Backsplash Ideas that You'll Love
Peel-and-stick backsplash is a home decor hack that gives renters, those with no construction or design experience, and people who are tight on funds an easy way to have the look of a professionally renovated kitchen without the pricey installation costs. These stick-on tiles provide a posh look at a fraction of the price and effort and can be easily removable so there is no worry about getting into trouble with your landlord. Peel-and-stick backsplash is the answer for anyone dreaming of that curated look.
Peel and Stick Subway Tile
If you're looking for an affordable way to revamp your rental home, then you'll love Stick and Peel Tile. This easy-to-apply product is designed to spruce up any kitchen or bathroom without breaking the bank. With just a few simple steps, you can create a gorgeous backsplash with a faux ceramic subway look. Give your home a stunning feature piece that's sure to be the envy of visitors!
Upgraded Subway,13''x12'' Peel and Stick Tile - Black
3D Wall Panels
3D wall panels are a great way to add texture and dimension to your walls. These decorative panels are made from PVC material, making them lightweight, durable and easy to install. With the addition of creative lighting, these panels can create stunning visual effects in any space. 3D wall panels are perfect for dressing up a dull room, covering up stubborn problem areas on walls or ceilings, and much more. Whether you're looking to spruce up your home or office, these stylish 3D panels can be used in living rooms, bedrooms, kitchens, offices, restaurants, cafes and more!
Semicircle Textured 3D Wall Panels - White
Arabesque Peel and Stick Tiles
Bring an extra layer of modernity and luxury with self-adhesive arabesque tiles, featuring a unique blend of rust slate texture and metal elements for added depth and dimension. Transform your rental home in no time with these stylish, yet practical peel and stick solutions!
Arabesque Peel and Stick Tiles - White
Metal & Composite Peel and Stick Wall Tile
Want an easy and cost-effective way to upgrade your kitchen backsplash? Consider STICKGOO PVC tiles! They're inspired by natural elements such as wood, stone, slate, and metal and are made out of a aluminium material mixed PVC composite laminate which has a realistic texture and natural appearance. Just peel and stick the tiles to give your space a permanent upgrade! It's a simple DIY project that'll save you money compared to traditional tiles.
Long Hexagon PVC Mixed Metal Mosaic Tiles - Statuary Marble Look
Herringbone Backsplash
Are you looking to makeover your rental home with a modern look? Look no further than Peel and Stick Wall Tile. Featuring an easy-to-cut herringbone design and simple adhesive installation, these tiles are perfect for the DIY enthusiast. Each tile is made of PVC composite laminate and has a natural, realistic finish. With each pattern repeating at different points on each tile, your wall will have a unique look that nobody else's does!
Herringbone Wall Tiles - Statuario White Marble
3''x6'' Subway Peel and Stick Tiles
Do you want to spruce up your renter home with some unique and creative backsplash? Peel and Stick tile is the way to go! You have plenty of options to choose from, depending on what look you're going for. Do you want something bold and vibrant with bigger shapes, or sleek and modern with grayscales and metallics? Maybe even a rustic charm with faux brick or stone designs? No matter which style you choose, there's 3''x6'' Subway peel & stick tiles that will fit perfectly into your renter home!
3''x6'' Subway Peel and Stick Tiles - Calacatta Gold
About STICKGOO Peel and Stick Backsplash FAQ
Q: Can I easily remove STICKGOO Tiles?
A: Yes. They are easy to remove with little to no damage, depending on the surface they were installed on. To make it easy, use a blow dryer to warm up each tile to soften the adhesive and pull softly starting with the corners. Use a cleaning product to wash the wall and remove any excess glue left by the STICKGOO Tiles.
Q: What are ideal surfaces for installing STICKGOO thin version tiles on?
A: Smooth undamaged surfaces are perfect. Learn More What Surfaces Can You Install Peel and Stick Backsplash Tiles On?
Q: How do you install tiles around electrical outlets?
A: Measure the outlet and transfer the measurements onto the tile. Cut with a utility knife and apply the tile to the wall! Watch the installation video.
Choose STICKGOO
Our products can help customers to save a lot of money, a lot of time, and ensure that each piece can be simply DIY in their own room without special tools. By today, we have a professional vinyl stick tile factory and a PVC aluminum self-adhesive tile factory, supplying STICKGOO self-adhesive products to more than 100 countries around the world.
Utilize STICKGOO tiles for your next Home DIY project - the design opportunities are only limited by your imagination!!
View More How to Quickly Install Peel and Stick Backsplash Tile in 4 Steps
                  What Surfaces Can You Install Peel and Stick Backsplash Tiles On?
                  Peel and Stick Tile Buying Guide
Ready to shop? Shop All Peel and Stick Backsplash Tiles.