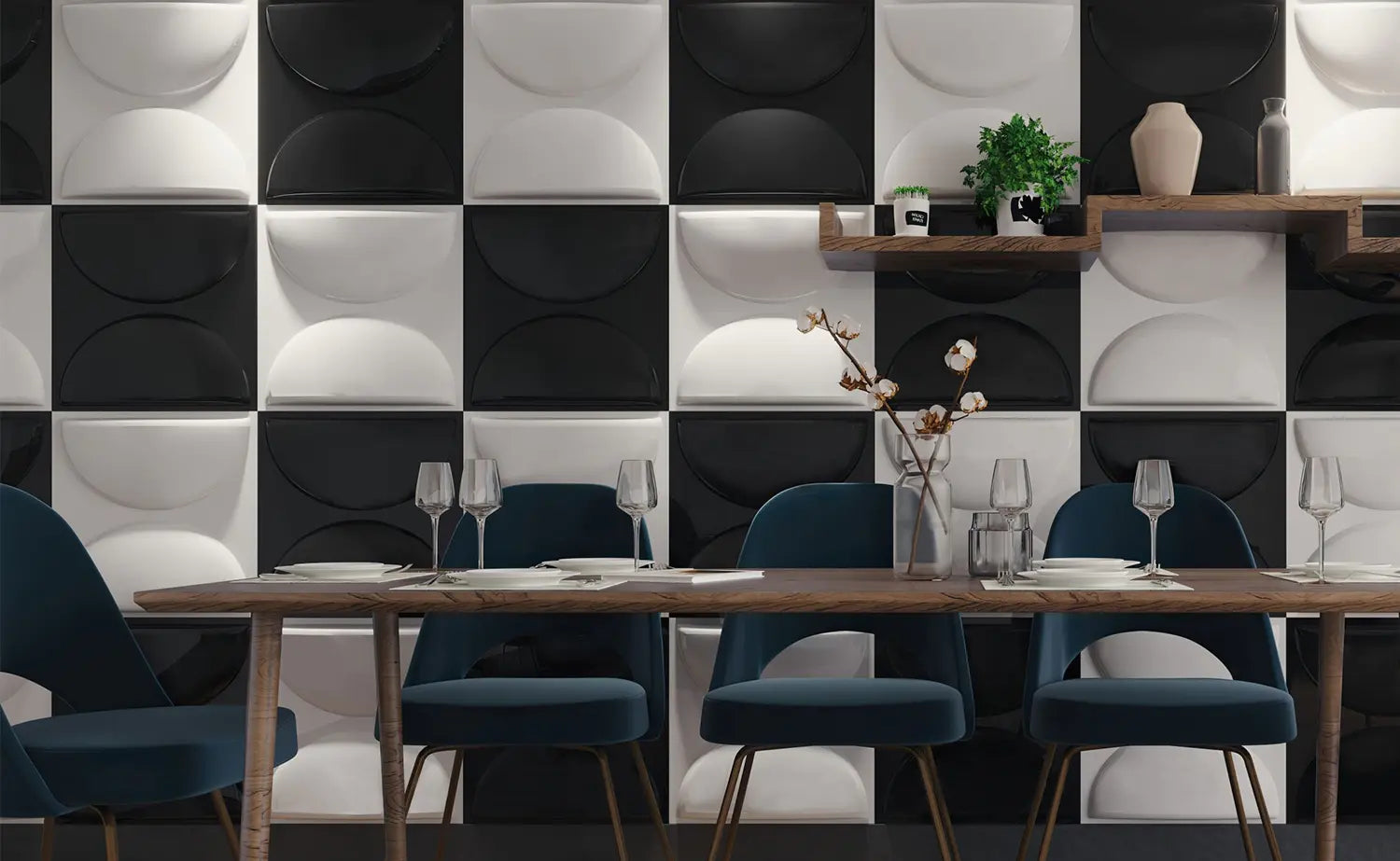 What Is 3D Wall Panel –New Trends In Interior Decor In 2023
Are you looking to spruce up your living space with something unique and eye-catching? Look no further than textured 3D wall panels! This innovative home decor product gives your walls a luxurious, modern appearance without the hassle of painting or installing wallpaper. Formerly used in high-end cocktail lounges, these wall panels are now lighter on the wallet and perfect for any residential setting.
3D wall panels are a type of decorative wall material with three-dimensional surface patterns and rectangular shape. They're used to cover walls, making up visible or exposed wall surfaces. Designed for decorative and functional use, wall panels offer soundproofing and insulation, atop giving a uniform appearance.
Why Choose 3D Wall Panels
PVC 3D wall panels provide an aesthetically appealing alternative to traditional flat wall panels. The dimensionality of this unique material creates visual interest and drama, particularly when combined with creative lighting. These panels are a great way to add a decorative statement to any interior space by covering stubborn, unsightly walls, ceilings, or other surfaces. They can be used in residential and commercial settings such as living rooms, bedrooms, kitchens, feature walls and ceilings, company logo walls in offices and lobbies, restaurant décor, cafes and bars; and cinema or night club backdrops.
What are the benefits of PVC panels?
High Strength, light weight, budget-friendly, low maintenance, safe and recyclable.

Waterproof, flame-resistant, termite resistant and moisture resistant

Installation of PVC panels is a very easy job.

The installation of PVC wall panels causes very little disturbance. This is because there is very little noise during installation.

It does not spread dirt like painting does.
How to install 3D PVC wall panels
1.Treatment Of The Wall Surface
All foundation walls must be flat and dry, firm and clean. Aged wallsmust be painted with a water-based sealing primer to secure loose surfaces.
2.Measure The Wall And Plan The Design
Measure the size of the wall to find its center point. Then mark verticallyand horizontally.
Arrange it on the floor by rotating the panel before attempting toinstall, ensuring the desired pattern is installed correctly.
3.Install The 3D Panels On The Wall
Use the tape provided by STICKGOO to stick to the back of the panel.Apply the panels on the wall as planned, pressing on the edges of thepanels to ensure all panels fit snugly against the wall.
4.Cut The Panel
Use a wallpaper knife or a electric saw to freely cut the panel when encountering a corner or outlet.
Size Of 3D Wall Panel
STICKGOO 3D wall panels each sheet is 19.7" x 19.7", a box of 12 sheets in total, covering 32.34 square feet. Compared with 12" x 12" wall panel, the coverage area is increased by 270%.
3D Wall Panel Design
Triangular Design

: With the geometric tile trend in full swing, STICKGOO 3d triangular design wall panel offer a fresh take. A modern and abstract shape of 3d triangular design wall panel bringing your living space more advanced look.
Lunar Ring Textured

: What a unique and romantic lunar ring texture design!, they are perfect for elevating the ambiance of any room and can bring life to a traditional flat wall.
Irregular Diamond Design

: Irregular diamond design of 3d wall panels create bold visual impact with their eye-catching designs, and can be an excellent way to break up the monotony of flat walls and add some spice to your decor.
Diamond Decorative

: 3D wall panels, styled with a diamond shape, can provide visual interest that flat walls lack! These panels are an ideal option for a spacious yet stylish look. Say goodbye to dull and boring walls and say hello to funky designs with 3D wall panels.
Olive Design

: This is not painted on, this is a real 3D olive shape, you can touch the wall panel, if you are a rugby fan, then must not miss it! Use 3D olive design wall panels make a statement with your décor.
Wave Wall Tiles

: Wave, a relief pattern that resembles crinkled waves, 3D wave wall panels features a highly dimensional wave pattern, creating stunning visual interest.
Semicircle Textured

: With unique semi-circles form a visually appealing pattern for a modern wall design with sound absorbing 3D wall panel tiles, it bring signature style to your interior design.
Diamond Design

: With diamond design of 3d wall panel, a geometric diamond-like form and minimalist design creating the effect of spaciousness combined with elegance and simplicity.
About STICKGOO 3D Wall Panels FAQ
Q: Are these 3d wall panels self-adhesive?
A: Buy stickgoo's 3d wall panels, we'll give you a roll of strong double-sided tape to facilitate your installation, you don't need to buy extra glue.
Q: Is it paintable?
A: It is paintable and you can color the panels to create a unique personality.
Q: Where can I view different installation renderings?
A: You can view the pictures on product description page. You can find that there are differences in the overall display shapes and renderings after installation. You can decide how to install according to your personal preferences.
Last
Yes, even cheap DIY 3D wall panels projects can have a huge impact on your home environment. Utilize STICKGOO tiles for your next Home DIY project - the design opportunities are only limited by your imagination!!
Ready to shop? Shop All 3D Wall Panels.