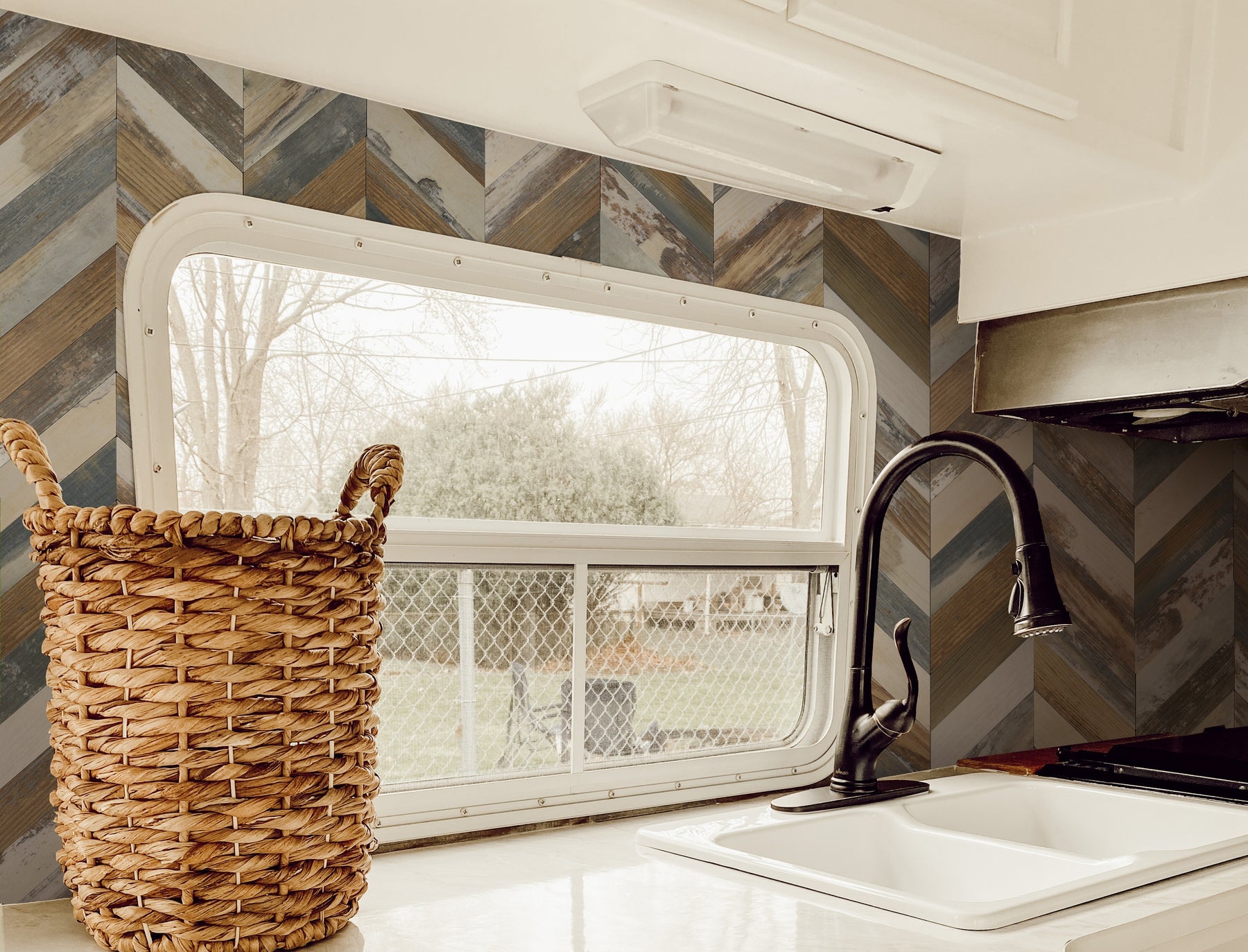 5 Affordable RV Backsplash Ideas - They are easy to install
Are you looking for an affordable, easy-to-install backsplash option? Peel and stick backsplash is the solution! STICKGOO revolutionary product is perfect for RV, those with limited design experience or a tight budget. Peel and stick backsplash comes in pre-printed styles that provide a professional designer look at a fraction of the cost and effort associated with traditional tiles. It's also easy to install and remove, allowing RV owner to have beautiful walls with no risk of getting into trouble.
1.Marble Look Subway Tile Backsplash
Want to spruce up your RV but don't want to break the bank? Then Marble Look Subway Peel and Stick Tile is the perfect choice for you! It's easy to install with just a few simple steps, and it can give your kitchen an eye-catching backsplash without spending too much money. Transform any surface into the highlight of your RV kitchen with this stick and peel tile.
2022 Updated Version Subway Tile - Marble Look
2.Metal & Composite Backsplash Tiles
Looking to upgrade your RV? Consider using peel-and-stick backsplash tiles! Choose from bold shapes and colors, grayscale and metallic designs, or faux brick or stone designs for a rustic charm. Pick something that suits the theme you have or will have throughout your RV for the perfect look. Whether you go safe or bold, make sure it reflects your personal style and brings out the best in your home on wheels!

2''x4'' Subway Peel and Stick Tiles Sheeted - Belgium White Marble
3.Herringbone Backsplash
Consider going with Carrara marble Herringbone Backsplash! These popular backsplash tiles provide an elegant and timeless aesthetic to any kitchen. Their white tones help to brighten any space by reflecting light off their glossy surfaces.
Plus, they pair nicely with light countertops, making them a great option for coordinating different styles together. If you're searching for an easy-to-maintain and stylish choice for your RV Kitchen, then Herringbone Backsplash is just what you need!
Carrara Marble Look Herringbone Tile - Carrara White
4.Arabesque Peel and Stick Mosaic Tiles
If you're looking for a quick way to add a touch of luxury to your Camper, then peel and stick tile is the perfect option. Turn your RV into a work of art with Stickgoo Hexagon peel and stick tiles! These mosaic tiles feature a modern blend of Calacata Gold and Arabesque Design , perfect for all tastes. Transform your RV in minutes with simple installation, no grouting needed!
Arabesque Peel and Stick Tiles - Calacata Gold
5.Wood Design Herringbone Tile
If you're looking to inject some warmth and rustic charm into your RV kitchen, a herringbone backsplash tile can be the perfect choice. Herringbone tile is made from 3D wood shiplap that permits easy peel and stick application for a hassle-free installation.
The texture has the same look and feel as natural wood, creating an authentic aesthetic. From rustic to modern styles, herringbone backsplash tile gives your RV kitchen the classic wood grain design many people strive to achieve.
Herringbone Wall Tiles - Rustic Wood
Frequently Asked Questions:
Q: Do you need extra adhesive for peel and stick backsplash?
A: Unlike with traditional tile, there's no need to glue it with mastic or thin-set and no need for grout. These tiles are available in a wide range of designs in vinyl, gel, PVC and metal-clad.
Q: Do peel and stick tiles work in RV?
A: Peel-and-stick tile does work in an RV. We sure to STICKGOO use a high-quality material and add extra adhesive to withstand the temperature variations of an RV.
Q: Does peel and stick backsplash last in an RV?
A: STICKGOO peel and stick backsplash won't tarnish over time. As long as you take good care of your tailgate and perform proper cleaning and maintenance, it will last a long time.
Finally
STICKGOO Peel and Stick Backslpash tiles are an ideal solution — just peel and stick them, then watch as your RV is transformed within moments into a cozy home.
Ready to shop? Shop All Peel and Stick Backsplash Tiles.