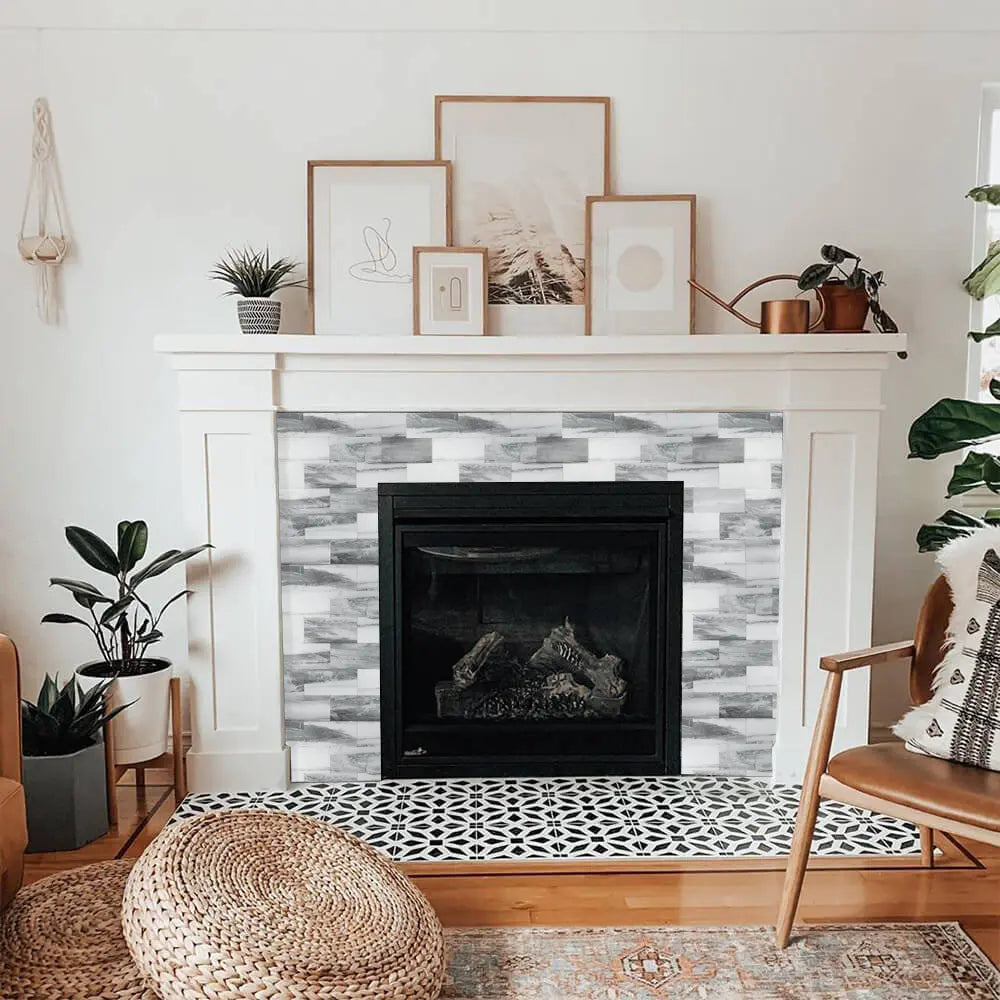 Fireplace Remodel Ideas Using Peel And Stick Tile For 2023
Looking to spice up your Fireplace? Adding a creative backsplash is an easy way to make a statement and set it apart. It's a great opportunity to add something unique – tile, mosaic, or anything else that'll suit your style. Don't settle for mundane designs; peruse the wide selection of examples below for inspiration and create a backsplash that'll stand out. One unique detail can be all you need to give your fireplace the look you've been wanting!
Fireplace Backsplash List:
1.

Hexagon Backsplash Tiles Create A Luxurious Master Fireplace Look
Hexagon PVC Mixed Metal Mosaic Tiles - White Marble with Metal Gold
Transform any fireplace into an on-trend space with peel and stick tiles! These thicker hexagon tiles are perfect for a fireplace statement wall. They're quick and easy to install, so you can makeover any space in no time. The shape and style of these tiles will instantly brighten up any space creating a luxurious master fireplace look. Add some impact to your decor without breaking the bank!
2.

 Bring Sophistication and Charm to Your Fireplace with Herringbone Backsplash
2022 Herringbone Wall Tile - Grey Wood Grain Marble
Bring instant sophistication and charm to your fireplace with our grey herringbone peel and stick tile! This timeless, classic design adds just the right amount of style without overwhelming the space. The grey hue is perfect for traditional or contemporary decor schemes and is a great way to tie in existing elements while introducing something new. Whether you live in a small home or grand manor, this versatile backsplash tile will look beautiful in any room.
3. 

Linear Blend Mosaic Peel and Stick Tile Perfectly Decorated in Fireplace Wall
Vamos Tile Linear Blend - Light Blue
This floor-to-ceiling fireplace contrasts against the white walls and becomes the focal point. Blue marble, white mixed light blue and beige stone mosaic tile was used in fireplace. The grey chairs, the grey with blue stripe carpet, and the white floor, Everything used to give the space a classic but modern look. Light blue linear blend peel and stick tile, it perfectly decorated in fireplace wall, therefor don't miss out!
4. 

Subway Backsplash are The Perfect Solution To Spruce Up Your Fireplace
2''x4'' Subway Peel and Stick Tiles Sheeted - Marble Grey
Whether you're looking to go trendy with a modern stick tile design or want to create a fireside oasis with traditional stone tile, peel and stick tiles are the perfect solution to spruce up your fireplace! Marble grey tile and provide an unexpected backdrop for decorations, candles, or memorable family photos that will tie into your existing decor. For rustic vibes, the marble grey subway backsplash stick tile is sure to impress.
5. 

Wood Design Subway Backsplash are A Great Choice For A Fireplace
3''x6'' Subway Mosaic Tiles Sheeted - White Wood
Subway tiles are classic and timeless, making them a great choice for a fireplace backsplash. This living room's backsplash of wood look subway tiles balances the elegant gold framed mirror and dark wooden floors and furniture, giving the space a rustic feel. An added bonus is that subway tile can be easily wiped down, which makes it very easy to keep clean!
6. 

Catch The Eye With 3D Brick Subway Peel and Stick Tiles
Subway Tile Peel and Stick Backsplash - Gray Slate 
Looking to give your living space some drama and sophistication? Consider 3D brick tile for a stunning fireplace backsplash. Whether you opt for an accent wall or take on the entire surround, a 3d brick tile backsplash can create a focal point that will instantly draw eyes. Choose from traditional designs such as the gray slate thicker subway peel and stick fireplace tile —either way, you'll be sure to impress guests with an updated look.
7. 

Create a Dramatic Fireplace with Black Hexagon PVC Mixed Metal Mosaic Tiles
Long Hexagon PVC Mixed Metal Mosaic Tiles - Dark Slate Mix Silver White Metal
If you're seeking a fireplace remodel with a dramatic flair, consider using black for your fireplace backsplash. Black tiles can be used to create an accent wall or make up the entire fireplace surround. Whether you're looking for traditional elegance or something more contemporary, there are plenty of options when it comes to black materials. For example, you could opt for 3D black marble long hexagon thicker peel and stick tiles to give your fireplace a sophisticated look and more modern. Make sure that whatever material you choose will turn heads in your living area!
8. 

Give your fireplace a makeover that won't break the bank with Stick and Peel Tile. 
Upgraded Subway,13''x12'' Peel and Stick Tile - White with white grout
This peel-and-stick backsplash product is designed to be quick, inexpensive and easy to apply. It creates eye-catching white subway tile look with minimal effort—simply peel off the adhesive backing and apply the tiles to create an elegant backsplash in any bathroom. In just a few simple steps, you'll have a stunning focal point that stuns visitors!
9. 

Say Goodbye to Traditional Decoration with  Mosaic Peel and Stick Tiles
Square Mosaic Peel and Stick Tiles - Gold
Spice up the look of your fireplace with a STICKGOO backsplash! This product features a brushed aluminum surface - perfect for fireplace use, as it provides both heat resistance and lasting style. Its modern design makes it an easy way to upgrade your space without taking on a major renovation project.
END
Are you looking for the perfect peel and stick tile design idea to upgrade your fireplace? Look no further than STICKGOO! We have a wide selection of fireplace backsplash ideas to choose from—whether you're looking for classic colors, modern patterns, or an eye-catching design to make your fireplace stand out. Plus, our blog offers plenty of helpful articles and tutorials that will guide you every step of the way. Explore our Home Inspirations channel for even more home wall decor ideas and complete your remarkable remodel!
Explore STICKGOO