Top 9 Best Fireplace Backsplash Ideas For Easy Renovations
A fireplace can be a beautiful focal point in any room, but it's important to choose the right backsplash to complement it. Whether you prefer a classic look or something more modern, there are plenty of options to choose from. Consider a natural stone or tile backsplash for a timeless look, or go for a bold patterned design to make a statement. Whatever your style, there's a fireplace backsplash out there that's perfect for you. And if you need help choosing the right one, our team of experts is always here to assist you. With our help, you can create the perfect fireplace and backsplash combination for your home, here are some of our recommendations.
Fireplace Backsplash List:
BEST SUBWAY TILE: Subway Tile Peel and Stick Backsplash - White
BEST ARABESQUE: Arabesque - Carrara White Mixed Grey
BEST HEXAGON: Hexagon PVC Mixed Metal Mosaic Tiles - White Marble
BEST MARBLE LOOK: Carrara Marble Look Herringbone Tile - Carrara White
BEST HERRINGBONE: Hexagon PVC Mixed Metal Mosaic Tiles - White Marble
BEST LINEAR BLEND: Carrara Marble Look Herringbone Tile - Carrara White
BEST WOOD LOOK: Herringbone Wall Tiles - Rustic Wood
1. Transform Your Fireplace With Classic Subway Tiles
Elevate the look of your fireplace with a beautiful subway tile backsplash! Subway tile is a classic style that adds an element of timelessness to your space. And with our peel & stick subway tile, creating it yourself is as easy as can be. Upgrade your fireplace quickly and easily to make an eye-catching statement that will stand out!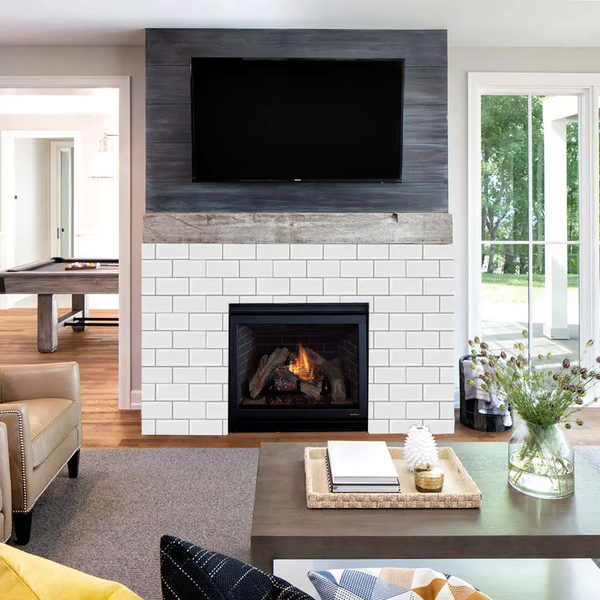 Subway Tile Peel and Stick Backsplash - White
2. Stand Out With an Arabesque Fireplace Backsplash
For an easy, effective fireplace renovation, why not opt for peel and stick tiles? The carrara white and mixed grey thicker rhombus mosaic peel and stick shower tiles will instantly update your fireplace decor, making it look brighter and more spacious. Not only are these tiles stylish and eye-catching, but the peel and stick installation process is incredibly easy. Transform your fireplace with peel and stick tile - it's a great way to create a striking feature wall without breaking the bank!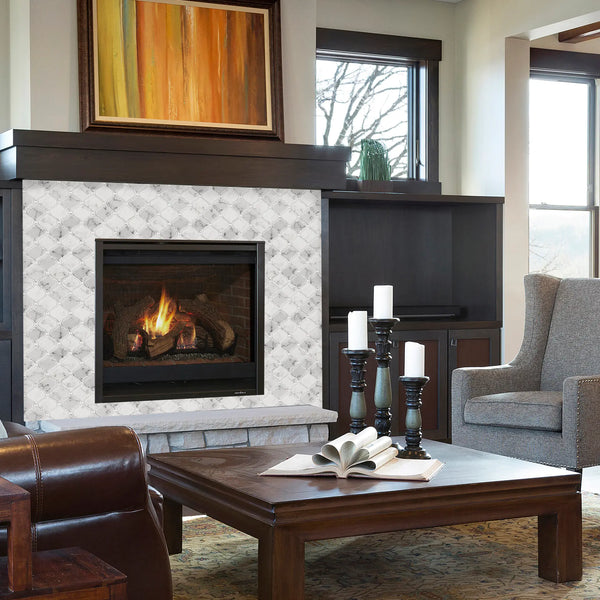 Arabesque - Carrara White Mixed Grey
3. Pink Subway Peel and Stick Fireplace Tile For A Memorable Look!
Are you looking to give your living room a contemporary, stylish edge? Consider using pink tiles to create an accent wall or surround around the fireplace. Pink can be an unexpected choice, but it has a unique flair that gives traditional and modern designs a bold focal point. The pink marble thicker subway peel and stick fireplace tile is perfect for those wanting some sophistication in their home. If you're feeling something more contemporary, opt for the pink subway peel and stick fireplace tile for a memorable look!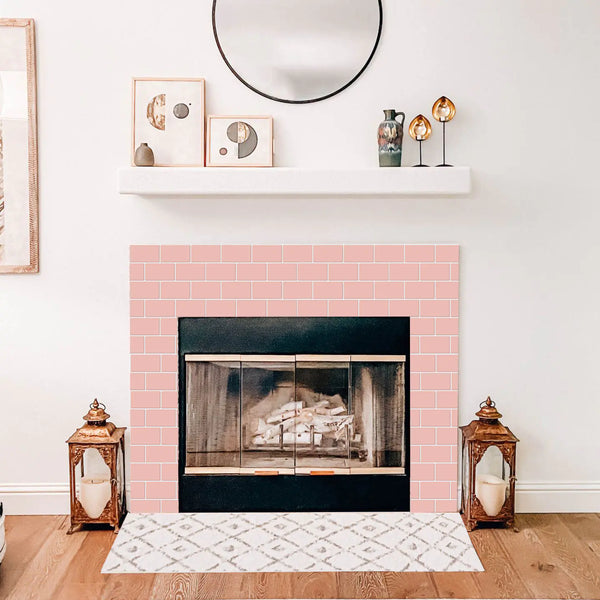 Subway Tiles Peel and Stick Thicker Design - Pink
4. Crema Marfil Peel and Stick Subway Tile Create A Rustic Aesthetic
If you're looking for an effortless way to update your fireplace with style, peel and stick tiles are the perfect option for you! Opting for crema marfil is an unexpected choice that will bring a sense of tranquility to any space. Not only can crema marfil tiles look great with both contemporary and traditional designs, but they also provide the ideal backdrop to showcase artful decorations and family photos. For a rustic aesthetic, subway backsplash stick tiles are perfect, it create a unique modern look. With peel and stick tiles, it's simple to achieve the cozy living space of your dreams!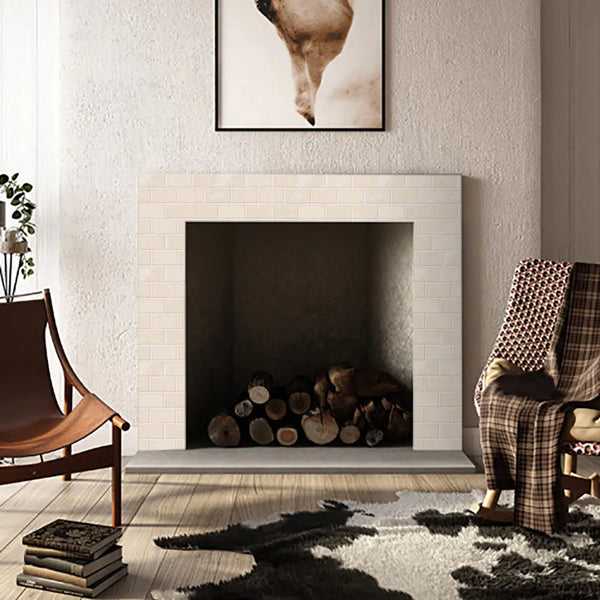 Subway Tiles Peel and Stick Thicker Design - Crema Marfil
5. Hexagon Mosaic Tile Creating A Beautiful Harmony Between Simplicity And Texture
The hexagon peel and stick backsplash is a popular choice for adding a touch of elegance to any space. In this particular design, the white details of the fireplace are complemented by the marble hexagonal backsplash, creating a beautiful harmony between simplicity and texture. The contemporary beauty of the backsplash adds a touch of quality to the space, while its light-reflecting properties help to brighten up the area. The white and gray tones of the backsplash also provide a nice contrast to the rawness of the white fireplace, creating a visually appealing focal point in the fireplace.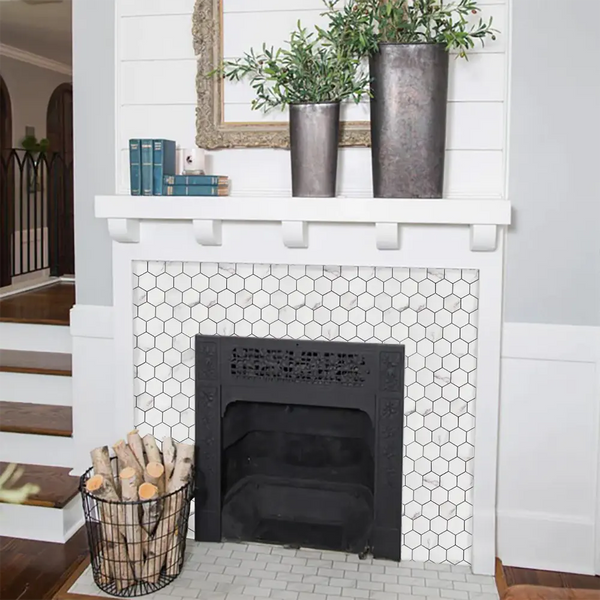 Hexagon PVC Mixed Metal Mosaic Tiles - White Marble
6. Carrara White Herringbone Peel And Stick Tiles Are Sure To Keep Your Living Space Cozy And Inviting
One of the best peel and stick tile options to give your fireplace a special update is white. It will not overpower any existing decorations, photos, or candles you've placed in the area, but rather gives it an air of tranquility. White herringbone backsplash tile is particularly eye-catching and well suited to fireplaces with rustic decor. Alternatively, fancier rhombus shaped tiles with a modern look are ideal if the fireplace will be used in a contemporary space. Whether you prefer country charm or modern refinement, white peel and stick tiles are sure to keep your living space cozy and inviting!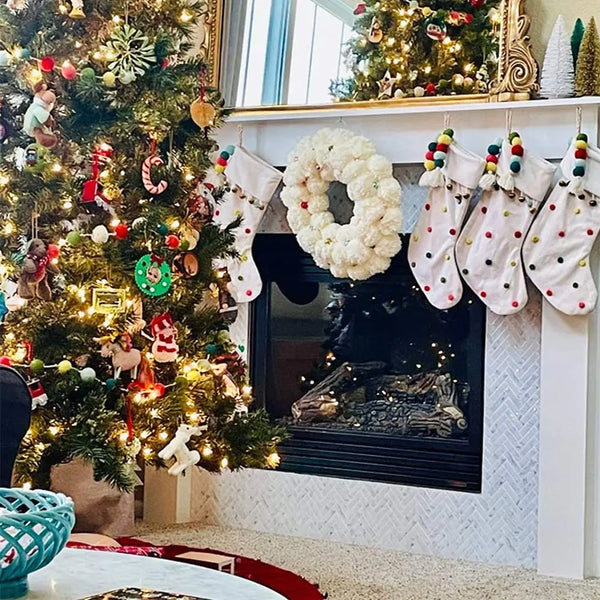 Carrara Marble Look Herringbone Tile - Carrara White
7. Bring Sparkle To Your Fireplace With This Stunning Linear Blend Mosaic Tile Backsplash
Peel and stick tiles are a great option for updating your fireplace walls without the hassle of traditional tiling. For a contemporary-luxurious feel, consider using a beige and gold color scheme with a pop of color from marble flooring. The gold mixed beige backsplash and white walls work together seamlessly to create a luxurious and modern look. The straight linear design of the gold mixed beige backsplash adds a touch of sophistication to the space, creates a cohesive and harmonious look for your fireplace.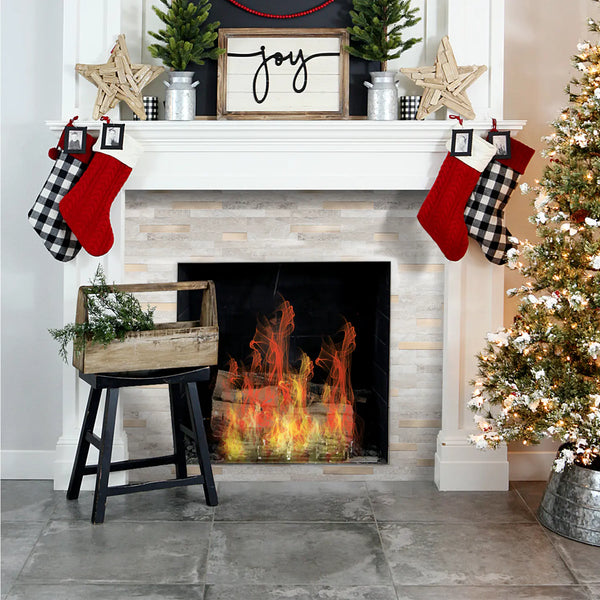 Faux Stone Mixed Metal Linear Blend - Beige with Metal Gold
8. Update Your Fireplace With This Modern And Stylish 2''x4'' Subway Peel and Stick Tiles
Peel and stick subway tiles are a great way to update the look of your fireplace without spending a lot of money. This white fireplace uses these tiles to create a calm and clean look, with subtle shades of color. The gold sofa and glass table add brightness and optimism, breaking up the unified visual scheme. By applying these tiles to the lower half of your wall, you can create the illusion of extra space and give your fireplace a fresh, updated look.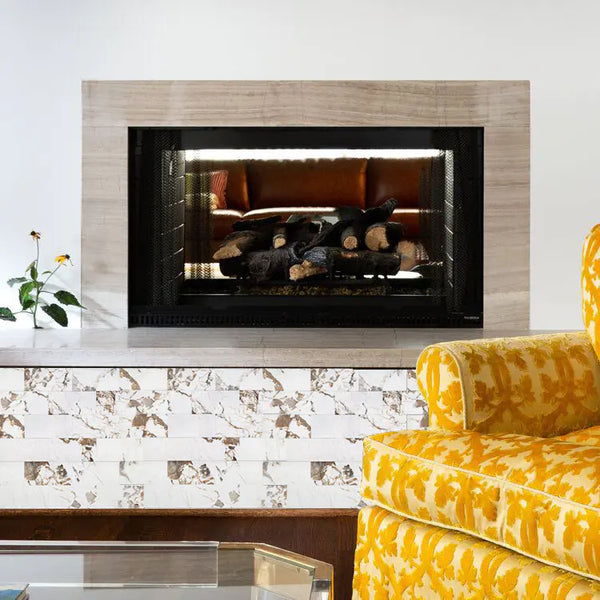 2''x4'' Subway Peel and Stick Tiles Sheeted - Belgium White Marble
9. Instantly Update Your Fireplace's Style With This Wood Look Herringbone Wall Tile!
Complementing the dark wood decor in this living room is a beautiful subway tile backsplash. The golden tones of the huge mirror are completed by the wood look subway tile surrounding the fireplace, with a wooden frame and mantel adding to its rustic appeal. The combination of the tiles, mirror, white wall, and floors provides an inviting atmosphere.
Herringbone Wall Tiles - Rustic Wood
Frequently Asked Questions:
Q: How should I clean and maintain my STICKGOO Tiles backsplash?
A: Simply use a sponge to restore the shine of STICKGOO Tiles. Use a mild non-abrasive household cleaning product such as dish soap, a cream cleanser or a glass cleaner.
Q: Can I easily remove STICKGOO Tiles?
A: Yes. They are easy to remove with little to no damage, depending on the surface they were installed on. To make it easy, use a blow dryer to warm up each tile to soften the adhesive and pull softly starting with the corners. Use a cleaning product to wash the wall and remove any excess glue left by the STICKGOO Tiles.
Q: Can I install them over an existing backsplash?
A: You can install peel and stick STICKGOO Tiles directly over your existing backsplash, whether it is glass or ceramic provided that your surface is smooth, sleek and without texture. You must also take into consideration the width and depth of your existing grout lines as this might affect the outcome.

Some shapes of tiles (ex: diamond) have more texture than others. We recommend testing with 1 or 2 STICKGOO tiles that also have texture before doing the full wall.
Get Creative With Your Backsplash
A fireplace backsplash can add a touch of elegance and warmth to any living space. Whether you prefer a classic brick design or a more modern tile pattern, there are plenty of options to choose from. With the help of our comprehensive guide, you can easily find the perfect fireplace backsplash to suit your style and budget. From peel-and-stick options to custom tile designs, our team of experts is ready to assist you in creating the perfect look for your home. So why wait? Start exploring your options today and create the cozy fireplace of your dreams!→SHOP NOW
Explore STICKGOO